New Jersey church plants congregation in El Salvador
페이지 정보
최고관리자

작성일

21-10-23 04:30 조회32회 댓글0건
본문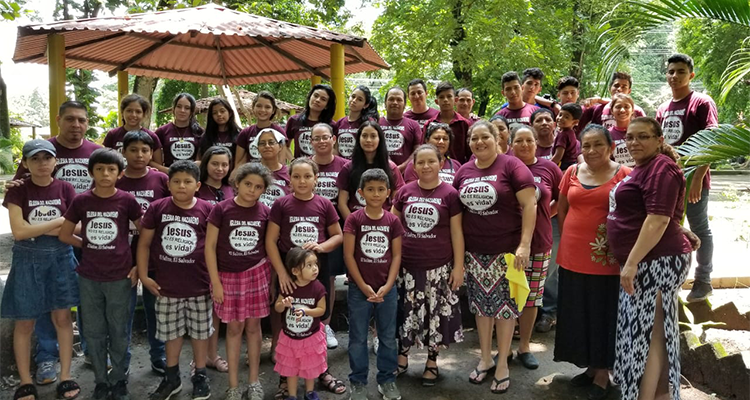 A New Jersey church is planting a congregation in a small village in El Salvador thanks to the Facebook Live services the church began hosting during the COVID-19 pandemic. 
David and Alondra Perez pastor Passaic Church of the Nazarene in New Jersey. When visiting family in El Salvador prior to the pandemic, David met a man on the street. When the man learned David was a pastor, he asked if David would come to his village and preach.
David traveled an hour and a half from the capital city of San Salvador to the small village of Piedras Gordas to preach, and many people accepted the Lord.
When the pandemic began, Passaic Nazarene began holding services through Zoom and Facebook Live. People tuned in from across the United States, and the services had a viewership that eventually reached into the thousands.
"At the beginning, it was just the families in our church that were connecting from their homes," David said. "There was about 100 to 150 people. But those numbers started growing because people were sharing our stream in their Facebook groups. I remember getting up into the thousands some of those days."
In El Salvador, the Piedras Gordas village had shut down the only local church because of the pandemic. When David and Alondra learned of this, they called a company near the village and asked if they could set up Wi-Fi. Once the Wi-Fi was set up, the villagers began tuning into Passaic's services.
"We started preaching to them and giving words of encouragement," David said. "They didn't have a computer to see us on; they just had older cellphones, like the original smartphones. They would connect it to a speaker and then flip the phone sideways. They could barely see us, but they turned the volume up so loud. We saw the people rejoice in the Lord, and many accepted Jesus in those moments." 
Because of the Facebook Live sessions, the villagers began to see David and Alondra as their pastors. David began making monthly trips to Piedras Gordas to help the church plant come to fruition. While it began as a personal endeavor for David, soon the people of Passaic Nazarene wanted the whole church to be involved.
"The church started to come alongside and say, 'Pastor, you don't have to pay the way to El Salvador. We are going to help you; we want to support you,'" Alondra said. "They know the people from El Salvador now and they feel like we are one in Christ."
"When I go now, people [from Passaic] ask me to take things to their friends in El Salvador," David said. "And when I get to El Salvador, they send things back with me to give to our people here."
The Piedras Gordas congregation meets in an outdoor shelter they built on a property that was donated by a man in the community.
"[The building] doesn't have walls, but we bought a sound system, speakers, pulpits, and a small drum set," David said. "We make a lot of noise there every day, inviting people from that small village."
The church is attended by 40-50 people from the community of 2,000. During David's most recent visit, the church held a service in which 20 people were baptized.
For David and Alondra, seeing what God has done and continues to do in Piedras Gordas is an example of what happens when you surrender yourself to God's will.
"We had so many questions about how to make this work in the beginning, but God is in control," Alondra said. "We just said, 'God, do whatever You want. We're here just to do Your will and serve You.' Things like the church in El Salvador happen when we do that."